Richard L Proenneke Museum
Come see the Richard Proenneke Museum located inside the library. Learn who Richard was, about his 30 years of homesteading in Alaska, and see a lifesized replica of his Alaskan cabin. Richard's journals and other items can be purchased at the library or online at RichardProennekeStore.com.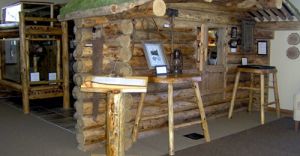 Our volunteers have built and continue to maintain many local records. These records include but are not limited to obituary care and filing for lee county, contiguous counties, and local Illinois and Missouri obituaries. They assist with genealogy requests and assist with walk-in genealogy and internet research requests. Inquiries can be made by calling the library and leaving your name and number with the librarian for the volunteers to return your call.
We are located at 411 N Main in Donnellson, IA. We have been open at this location since September 2017. Our phone and fax number is 319-835-5545.
We are open:
Monday - Friday 11:30 a.m. - 7:30 p.m.
Saturday 10:00 a.m. - 3:30 p.m.
Sunday CLOSED
We are closed on the following holidays:
New Years Day Presidents Day Good Friday
Memorial Day Fourth of July Labor Day
Thanksgiving Day Christmas Day